Sims Next Top Model Cycle 2 is the second cycle of BrushYourCats' S3NTM. The cast is filled with Asians.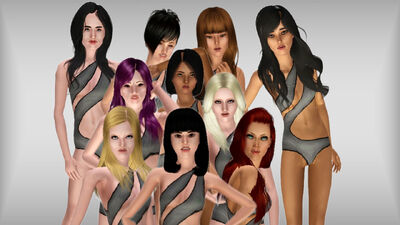 Mhmm.
At panel, Courtney-Kay Woodford got replaced by famous top model Sakura Xen and Lu-Te Saiyani, manager of Vogue Agency was added. The overseas destination is Sicily, Italy.
Information about Cycle 2
Edit
Here's some information about Cycle 2.
30 girls were chosen as Semi-finalists, and 20 of them got the chance to compete, and in the end only 10 girls remained to fight for the set of fierce prizes.
The prizes of C02 are as follows:
A contract with Vogue Agency
A contract with IMM
A contract with L'Oréal
A billboard in Tokyo shot by Kortland Arrington
The cover of Vogue Italia
Contestants
Edit
(ages stated are at time of contest)
EliminatedEdit
Still in the runningEdit
| | |
| --- | --- |
| Name | Age |
| Altai Khan | 17 |
| Chun Hei Syung | 16 |
| Erin Shin-Zoo | 20 |
| Esther Steinberg | 19 |
| Imelda Gutierrez | 24 |
| Jennifer Sashajevo | 21 |
| Melony Makus | 21 |
| Natasha Chang | 23 |
| Samiyah Al Halbi | 19 |
| Zafina Gonzales | 18 |